Feminized cannabis seeds
(25)
As low as €4.00


Hybrid, high in THC, outdoor, indoor, high yield

A combination of the two strongest plants in the world, AK-47 and the White Widow. Known for their phenomenal resistance to mold, these two cannabis strains are resistant to humid environments and insects. The chance is therefore minimal with the White Russian when one speaks of bud rot and fungus. These cannabis seeds result in a strongly scented cannabis plant with a high THC content. A dream for the novice grower.

Prices are per seed!

As low as €4.00


Indica, fast bloomer, high yield, compact, sea of green, outdoor, indoor The number 1 in Spain! This crossing of Big Bud and Skunk does particularly well in a dry climate and is therefore good for a huge harvest. She is also very suitable for indoor cultivation due to her hard, compact top formation and fast cycle. Harvest ready in about 8 weeks.

As low as €4.00


Indica, autoflowering, high yield, compact, high yield, high in THC

Northern Lights seeds are easy to grow and ready quickly. Ready for harvest after 8 weeks. This 100% indica has few leaves and produces lots of hard buds.

As low as €4.00


Sativa dominant, typical scent, compact, coffee shop favourite

Short and compact sativa that needs 10 weeks to mature perfectly. The weed from the New York Diesel has a typical smell, to which these cannabis seeds owe their name. Loved and appreciated in the coffee shops.

Prices are per seed!

As low as €4.00


Sativa, very high yield, sea of green, kilo stunner

The Super Power cannabis seeds need no introduction. These cannabis seeds are the most popular in the Netherlands, because of their consistently high yield. Growing can't go wrong with the Super Power, it is easy to grow and is therefore very popular among bulk consumers.

Prices are per seed!

As low as €4.00


Hybrid, mold resistant, well known, popular, anti bud rot, novice grower

An age-old strain that is still crossed with everything to this day and this is not for nothing. The White Widow is an easy-to-grow plant due to her great qualities. She is compact, very resistant to mould, bud rot and pests and also quickly ripe for harvest. You will not find a cannabis strain that is even more beginner-friendly than the White Widow, she grows like weeds and needs hardly any maintenance.

Prices are per seed!

As low as €4.00


The Power Kush is a strain that you can say to yourself, this stunner has a very high yield and does not lack THC! A short flowering cycle that results in brilliant crystals and a sticky resin layer. Extremely suitable for Sea of Green.

Prices are per seed!

As low as €4.00


Fast sativa, sativa dominant, sea of green, mold resistant, outdoor

AK47 cannabis seeds real toppers among the sativas! Fast flowering, about 60 days, high yield and high resistance to fungi and pests. Furthermore, the height for a 65% sativa is easy to control, making this plant very suitable for Sea of Green. In short: these cannabis seeds are recommended for both the experienced and the inexperienced grower!

Prices are per seed!

As low as €4.00


Fast sativa, thc bomb, high yield, medicinal

Jack Widow seeds are popular because they are easy to grow despite their high sativa content. They don't grow too big and deliver massive THC-rich buds that are ready to harvest after about 9 weeks.

Prices are per seed!

As low as €4.00


Sativa, very high in thc, long flowering, outdoor

The name says it all, the Super Silverhaze seeds are simply super! This cannabis strain is known for its crackling high THC production and therefore shines like no other. The effect hits hard and creates a repulsive euphoria. Only a few coffee shops are able to keep it in stock, so the demand for this weed is very high among the cannabis community. It is therefore not surprising that the demand for these cannabis seeds in the Netherlands is increasing drastically.

Prices are per seed!

As low as €4.00


Indica, fast bloomer, high in thc, popular, medicinal topper


The OG Kush, perhaps the most famous strain in the cannabis market. This pure indica can be considered narcotic due to its extremely high THC production. For some recreational users, the effect may not be strong enough, however, among medicinal users, it is considered the perfect pain-killer. Her high has a strong sedative effect on the body and mind.

Prices are per seed!

As low as €4.00


Sativa, long bloomer, high yield, uplifting, high in THC

By crossing with White Widow, Amnesia cultivation is now also possible for beginners. The characteristics of Amnesia are largely preserved in the final product. However, these cannabis seeds are a lot easier to grow. Highly recommended and one of the best-selling varieties in our range.

Prices are per seed!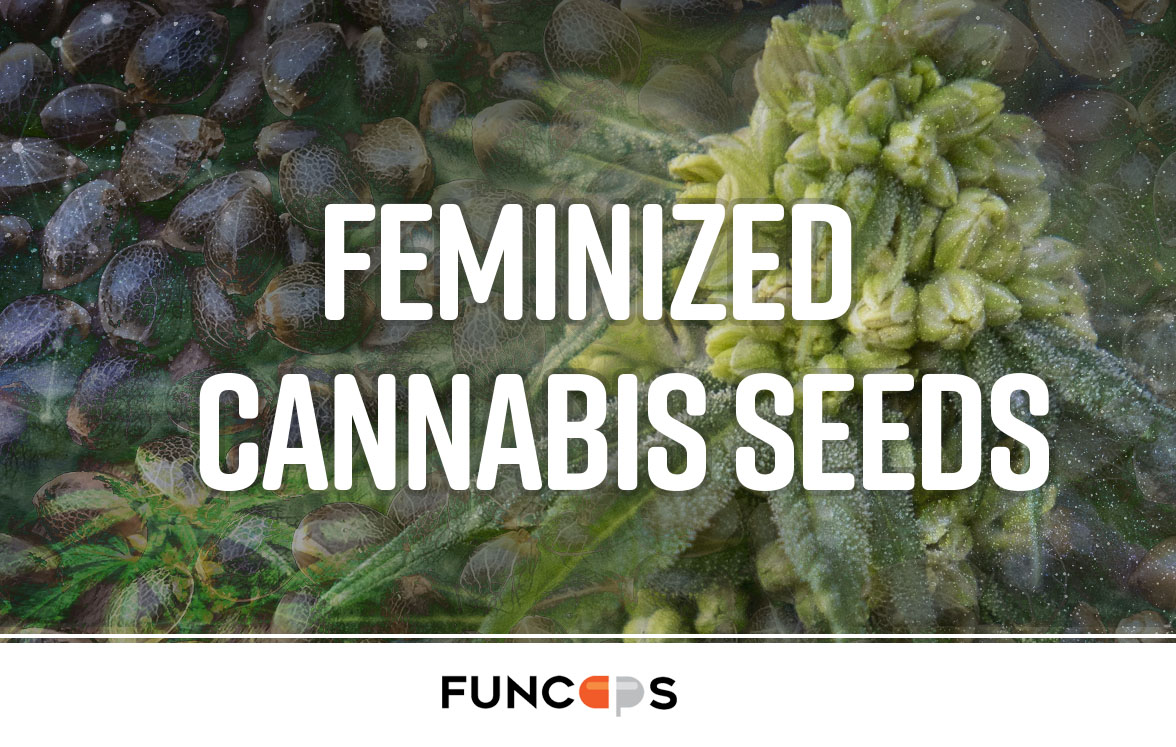 Cannabis seeds that produce female cannabis plants for 99.9% of the time.
The funcaps feminized cannabis seeds are of high quality, the germination power is on average around 96.3%. Are you looking for cannabis seeds for indoor or outdoor cultivation? or cannabis strains that are easy to cultivate or an advanced cultivation level? Use the filter option to find your ideal seeds.