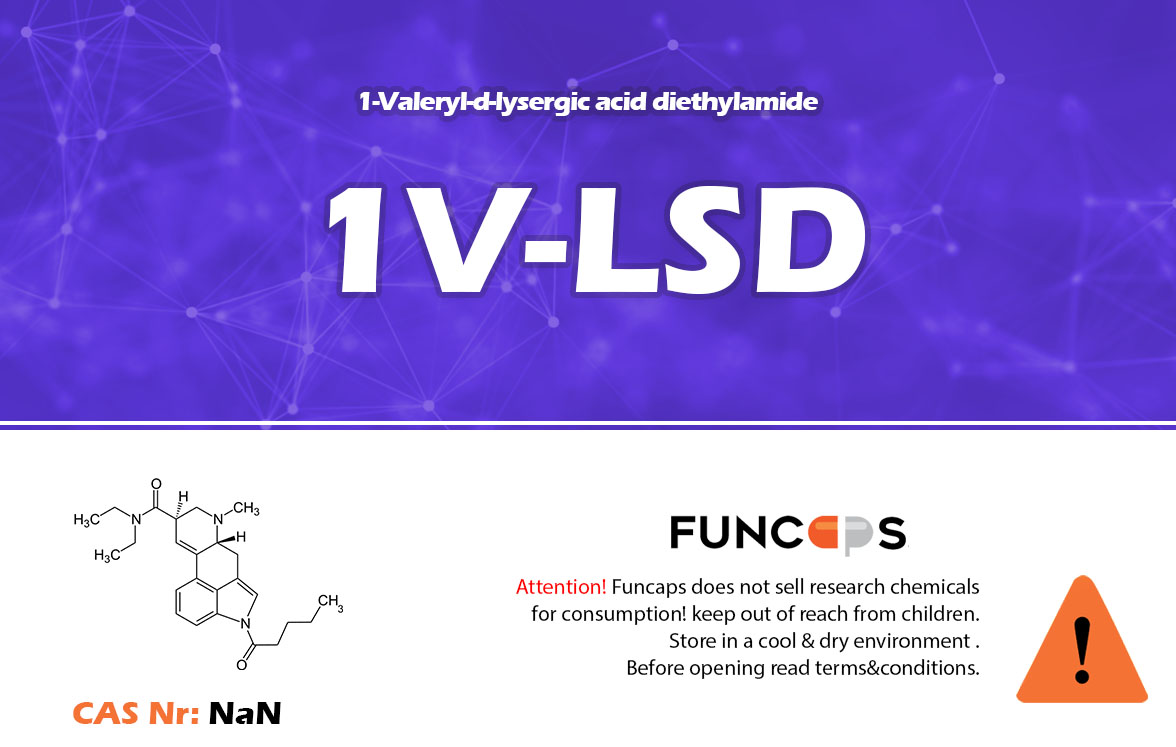 1V-LSD, also called 1-valeryl-D-lysergic acid diethylamide, is a research chemical from the Lysergamides class. Although it is often confused with similar research chemicals within the same class, like 1cP-LSD which can be found here, it is actually more potent! We will explain more on why it is more potent further down. This research chemical is also called 1V LSD Valerie, or in a shorter way just Valerie. The reason being is its chemical name 1-valeryl-D-lysergic acid diethylamide, out of which VAL (from VALeroyl), ER (from kysERgic) and IE (from dIEthylamide) van be taken. Thus, Valerie.
You can choose to buy 1V-LSD in two varieties at Funcaps, Blotters and Pellets. Blotters are thin pieces of paper, usually with pictures on them. The sheet will absorb liquids, in this case 1V LSD, until it is quite literally full. The reason why researchers have preferred blotter paper over the years is due to its long shelf-life and the fact that it makes dosing 1V LSD way easier. Easier dosing means that a researcher can more accurately predict the results.
Please note that all information about these research chemicals and the research chemicals themselves are for educational and research purposes only. These products are not supplements and are not suitable for human consumption.
What is the difference between 1cP-LSd and 1V-LSD?
Due to both variants belonging to the Lysergamides class, there are a lot of similarities between the two. Nevertheless, research reports have shown that there are substantial differences in the two. For example, 1V LSD has a bigger mass than the 1cP kind, making it so that this variant is usually sold in higher quantities. We would like to reiterate: we do not condone consuming this research chemical, it is sold for scientific purposes only. Having said that, user reports have noted that there is another big difference between the two. Namely, that 1V LSD has more intense visual hallucinogenic effects. Are you interested in products that can possibly have hallucinogenic effects? Then take a look at our mushrooms!
How to store 1V-LSD
When you see 1V-LSD and decide to buy it, there is one thing you need to know: how to store it. An important part of research, which a lot of people seem to forget, is that storing is essential for an accurate research project. When a research chemical like 1V LSD Is improperly stored, it can cause the research chemical to lose potency. There are a few criteria that the storage place needs to adhere to. The first being that it needs to be a dark place, as to not affect the chemicals within. Overexposure to light can damage the bought goods. Furthermore, keep it in a place which is, at max, 20 to 25 degrees Celsius. Lastly, make sure the storage place is dry! When storing pellets or blotter paper, it is essential to make sure they do not get wet. It would be a waste when you finally went ahead and got some 1V LSD to buy, only to have to throw away your research chemical due to it getting wet.
Why decide to buy 1V LSD at Funcaps?
Customer satisfaction is something we are currently keeping in the back of our minds. We would not be where we are right now without you! Next to our loyal customers, we also keep tabs on product quality. Our customers deserve nothing but the best, which is the reason why we guarantee that your 1V LSD is of the quality you deserve! Are you, besides our best efforts, not happy with the product you received? Do not worry, you have the right to cancel your order for up to 14 days after receiving it! The only term is that the seal is not allowed to be broken, this way we can ensure nothing happened to the research chemical or other product!