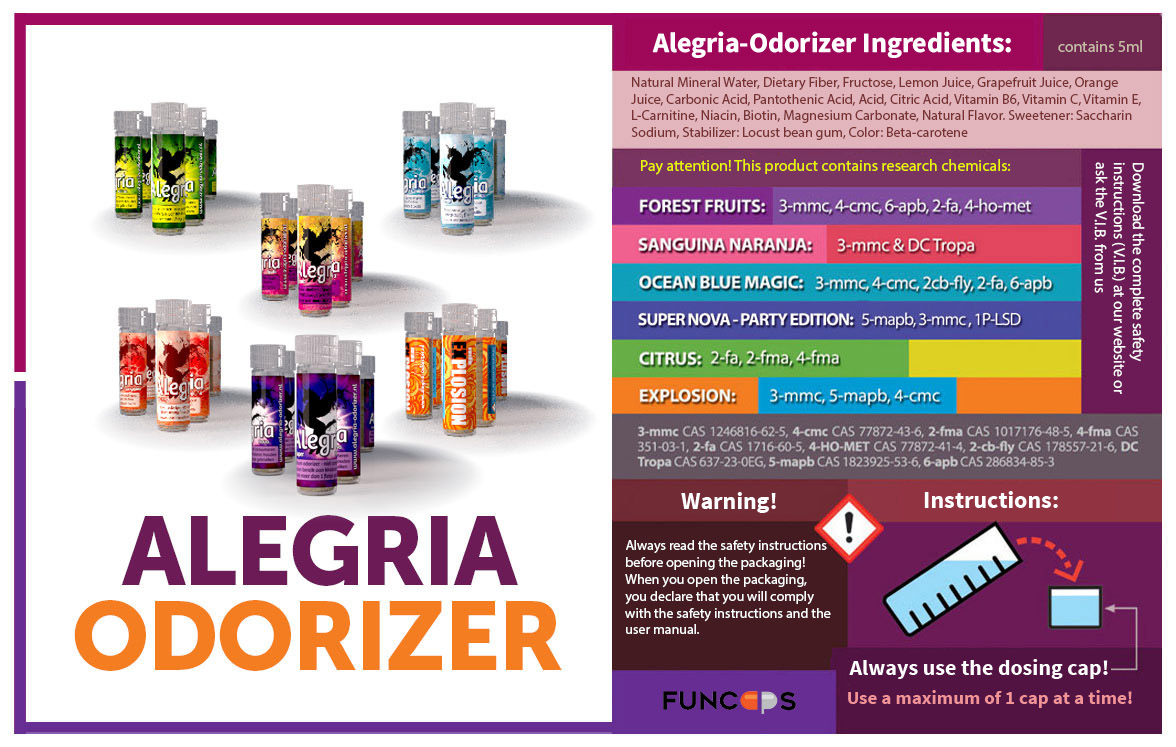 LIQUID RC
Alegria odoriser is a mix of several research chemicals in the form of a liquid. On our website, you will find a wide range of different alegria odoriser. All of these have a different composition, from different research chemicals, so their effect may differ. At Funcaps, we guarantee the quality and origin of our alegria odoriser and other research chemicals. These are not for consumer use, but are offered by us for research purposes. Want to know more about our alegria smartshop? Then read on!
Please note: all information about these research chemicals and the research chemicals themselves are for educational and research purposes only. These products are not supplements and are not suitable for human consumption.
The effect of alegria odoriser
Alegria odoriser is a mix of several research chemicals. Take for example our alegria forest fruits, this variant consists of 3-CMC, 6-APB, 2-FA and 4-HO-MET. Using this alegria forest fruits can have effects such as an excited, sharp, warm and loving feeling. Another variant is the alegria supernova. This contains 3-CMC, 5-MAPB, 1P-LSD and 4-HO-MET.
All our alegria odoriser variants are available in 5ml bottles. Of course, these can only be used for educational and research purposes. To avoid unpleasant consequences, it is important to stick to prescribed dosage. This is a maximum of one cup at a time. In addition, it is also advisable to read the safety instructions before using alegria odoriser.
Do you have any questions about this research chemical or any of our other products on our website? Then send a WhatsApp message to the phone number +31 6 10 84 83 86 or an email to [email protected]. We at Funcaps.com will be happy to answer them for you.
Alegria smartshop at Funcaps.com
At Funcaps.com, we have a wide range of different research chemicals, including alegria odoriser. In our shop, these are available in nine different aromas. All our research chemicals guarantee quality. Besides being shipped the same day when ordered before 16:30, they are always packaged discreetly. From the most popular research chemicals, such as 3- CMC and 2-FMA, to sex toys and e-cigarettes. At Funcaps, we have it all! Nevertheless, our research chemicals can only be ordered for research purposes and should therefore not be used for consumption. Want to see more of our product range or order something right away? Take a look at our research chemicals shop!