Bromazolam is a triazolobenzodiazepine (TBZD) first synthesised in 1976, and available on our Dutch website since 2023! It has only recently been marketed under the name Bromazolam. It is currently used for research purposes and is available in different forms, such as powder and pills. Bromazolam belongs to the class of benzodiazepines and has sedative, anxiety-reducing and sleep-promoting effects. Currently, it is legally available as pellets and is not yet on the Opium list. However, the purchase of Bromazolam is for educational and research purposes only and is not suitable for human consumption.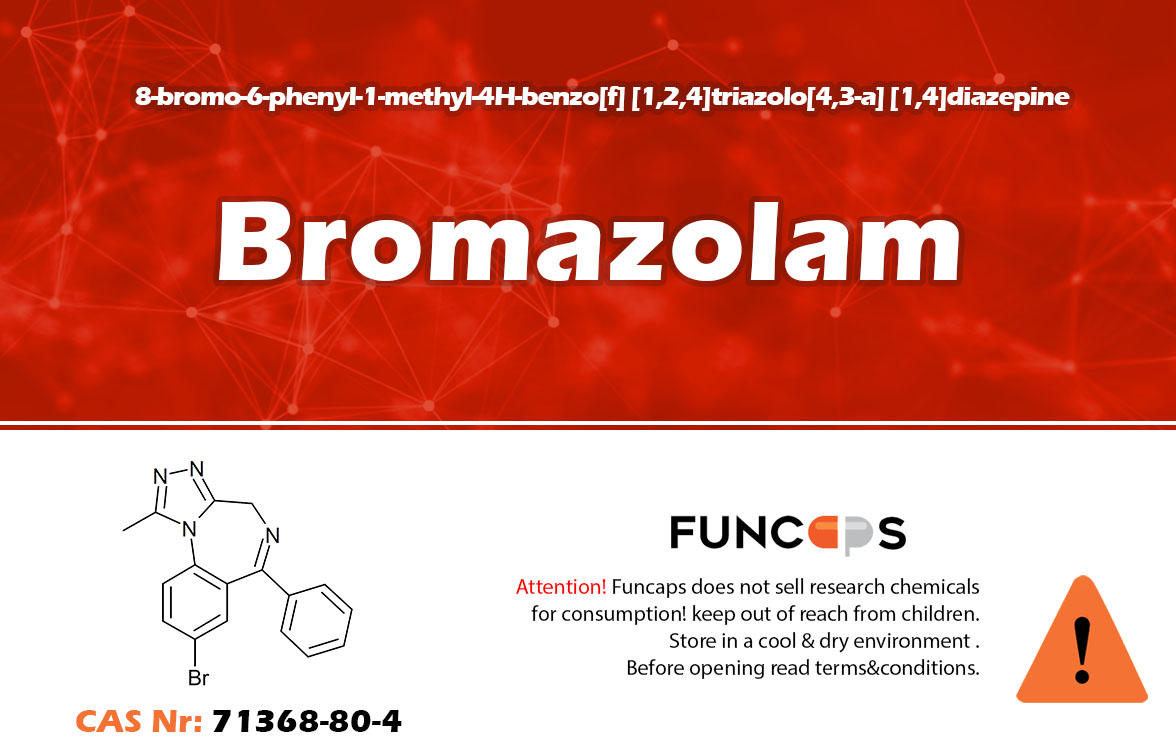 Bromazolam, a triazolobenzodiazepine (TBZD), was first synthesized in 1976. However, the now familiar research chemical had never been marketed. Through the EMCDDA in Sweden, Bromazolam powder was actually identified. Going further in time, Bromazolam is being used for research purposes in the current day and age. This research chemical is part of the Benzodiazepine class, which is known in the Netherlands for being only obtainable from a licensed medical professional due to the Dutch Medicijnenwet. Given that the intent use is consumption. As a research chemical, thus purely for scientific purposes, you can still legally choose to buy Bromazolam or other benzodiazepines, which can be found here. Although 'Benzodiazepines' sound super fancy, there is a good chance you know a few of the prescribed versions. Think of household names like Valium or Xanax. If we compare those household names to Bromazolam info, we find out that the research chemical is way more potent. 1–2 milligrams of Bromazolam seems to correlate to 5–15 milligrams of Valium.
Please note that all information about these research chemicals and the research chemicals themselves are for educational and research purposes only. These products are not supplements and are not suitable for human consumption.
Bromazolam info and effects
The popularity of Bromazolam as a research chemical started to rise around 2016. Which, in scientific measurements, means that the research is still quite young. Due to this not all the effects are known yet. Thankfully, there are a lot of testimonials of other researches, who have said that research showed that the following effects could take place in test subjects:
Just as what is to be expected of a chemical in the benzodiazepine family, it has a tranquillizing effect. Meaning that subjects experienced less fear impulses within the brain, thus getting scared or anxious less. On the physical side of things, Bromazolam effects can include the weakening of certain muscles. Also, insomnia seemed to be less of an issue in studies where Bromazolam was used. These effects were noticeable for a time period between 8 and 12 hours. The half-life of this research chemical is expected to be the same as Alprazolam, which follows a similar chemical structure, and would thus be around a year if stored properly. To ensure the aforementioned half-life, we strongly advise to store your Bromazolam in a dark and dry environment. Too much sunlight can alter chemical values of your research chemical, thus directly impacting your scientific study. Also, it is advised to keep it in a place that is at room temperature.
Another thing that user-experience has shown is that dosage is super important when it comes to Bromazolam effects. Although it has been shown to help battle insomnia, a too big dosage has shown to actually make it so that a feeling of tiredness can be felt for longer durations of time. The CAS-number of Bromazolam is 71368-80-4.
Does Funcaps offer a discreet service?
Yes, we do! As a company that has Bromazolam for sale, we want to make researchers feel completely at ease. Research should be available to everyone, everywhere. Having said that, we realize not everyone is as convinced of the advantages that research brings as we are. Due to this, we decide to send all our products, whether they are research chemicals or something from our legal poppers store, in discreet packaging. The only thing displayed on the packages is the address it is going to. Afraid that a closer minded person within your household sees your package and opens it? Do not worry, we got you covered! We also have the option to send our products to a pick-up point near you!