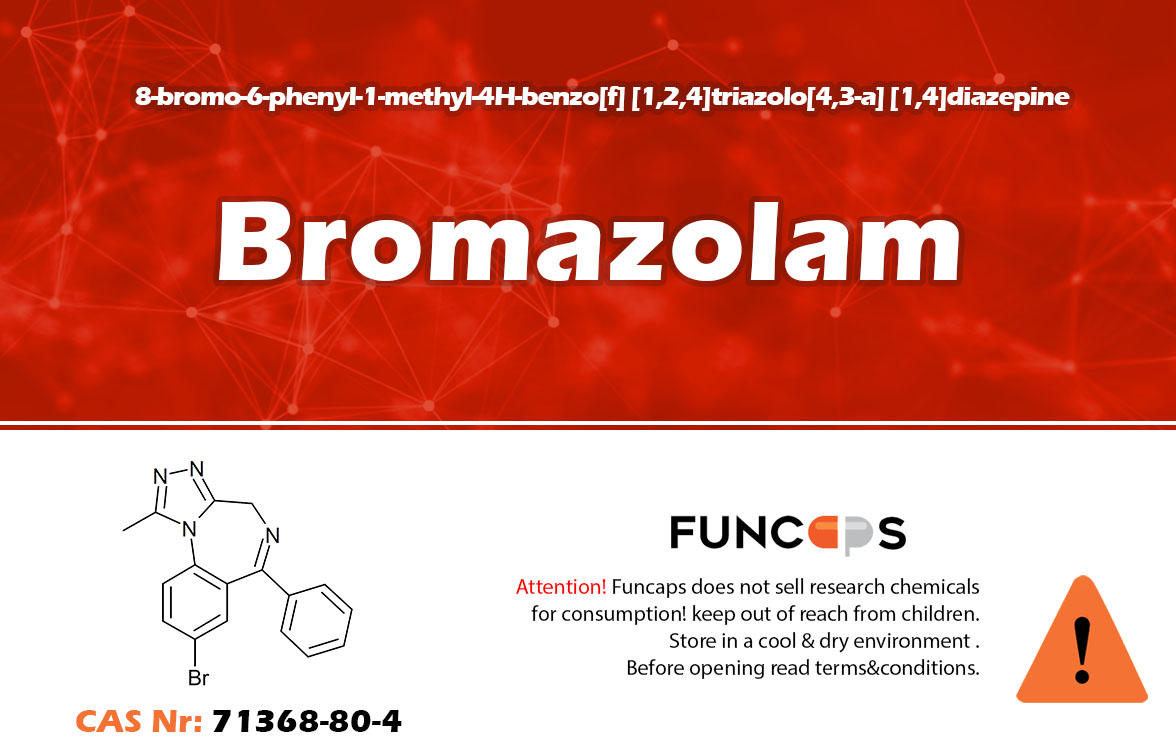 Bromazolam
Bromazolam, a triazolobenzodiazepine (TBZD), was first synthesized in 1976. However, the now familiar designer drug had never been marketed. Through the EMCDDA in Sweden, Bromazolam was actually identified. Meanwhile, Bromazolam is used for research purposes and does show up in the party scene from time to time, but what do we know about this research chemical called "Bromazolam"?
Bromazolam belongs to the benzodiazepine class, because of this it has effects such as sedative, anxiolytic and sleep-inducing. In addition, Bromazolam is similar in chemical nature to Alprazolam and can last up to 2 years in properly preserved condition. Bromazolam Pellets are currently still legal to buy, so when and if it will be listed on the Opium Act is not yet clear. 
On many platforms where users share their experiences about the research chemical Bromazolam it often comes up that the dosage is important, otherwise you can be tired or sleep all day. So it can determine the duration. Bromazolam can often be bought in pellets, these generally have a dosage of 2.5 mg (may vary). The effect of a Bromazolam pellet lasts approximately 6 to 8 hours. Whether it has any recreational value is still a matter of opinion! 
Over the years, the advantages and disadvantages of Bromazolam have been better identified and much information can be found about it. Still it is wise to be careful with designer drugs like Bromazolam, it still falls into the category of Research Chemicals. If you order Bromazolam we recommend to store it in a dry environment and at room temperature, if necessary read the terms and conditions. Funcaps.com sells Bromazolam for research purposes only, not for consumption. In case of contact with eyes: rinse carefully with water for at least 10 to 15 minutes, if contact lenses are worn remove them. 
Also check out Flunitrazolam , Flualprazolam and Clonazolam