Flubrotizolam (FANAX)
(2)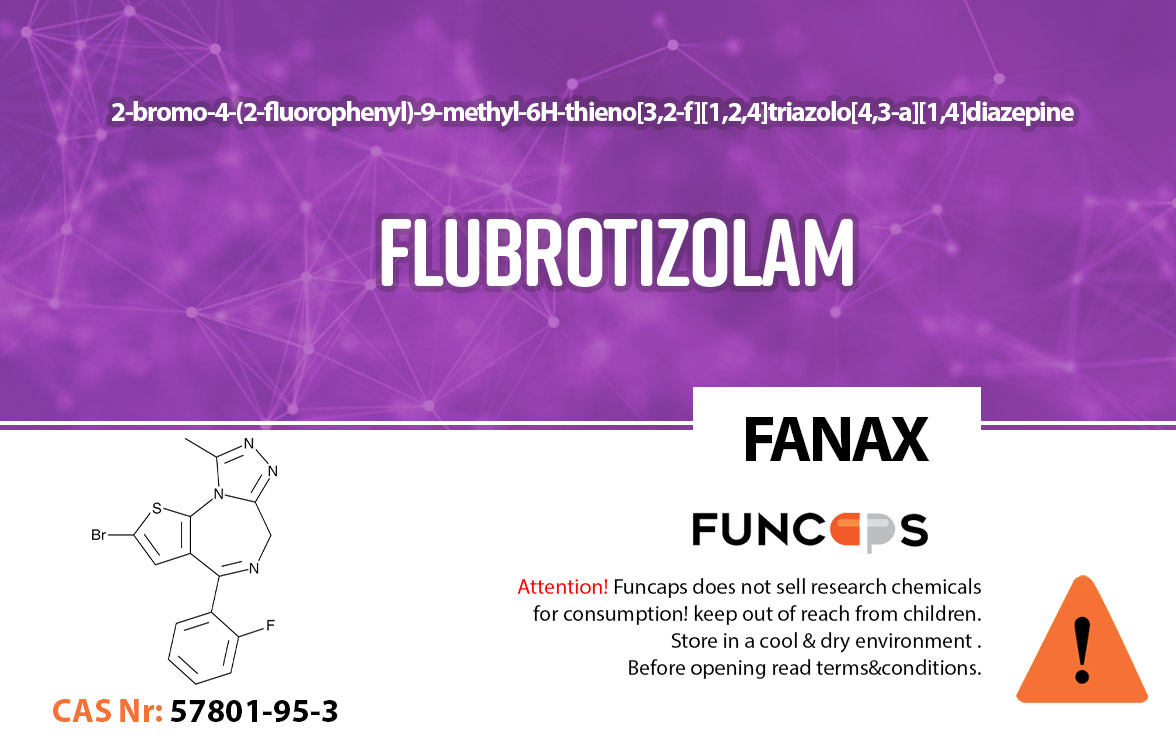 Flunitrazomal (FANAX))
Flunitrazolam, commonly known as FANAX, belongs to the benzodiazepine class. It is a tranquilliser which is available on prescription from a GP. In general, benzodiazepines are used for people who suffer a lot from tension, persistent fears, panic attacks and mentally related complaints. In addition, the drug is often used in psychiatric care. Flunitrazolam is part of this class and only appeared on the market in 2016. So far, not a lot of experiences have been shared, so be careful when buying research chemicals..

The information so far known about the metabolism, pharmacological properties and toxicity of flunitrazolam in humans is scarce. NEVER combine this drug with other soft or hard drugs.
Therefore all information about and buying research chemicals is for research purposes only. Funcaps does NOT sell research chemicals for consumption.
Effects of flunitrazolam
Because of the effects of flunitrazolam and the associated risks of the entire class, you should pay close attention. Little is known (yet) about this reseach chemical. What is known about the effects of this drug are the muscle relaxant effects, described by many as if the muscles lose stiffness and a comfortable feeling takes over. Anxiety suppression, think of the control of panic attacks and restlessness. And memory suppression, a process whereby the short and long term memory is partially to completely suppressed. .


HAZARD IDENTIFICATION
Again, little is known about research chemicals such as flunitrazolam. Long-term use of this drug can lead to insomnia, feeling powerless and memory and concentration problems. There are risks involved in researching the entire benzodiazepine class. High doses or use in combination with soft and/or hard drugs can result in serious consequences. Always keep out of reach of children and store in a dry environment.