Flubrotizolam (FANAX)
(3)
Flubrotizolam, also known as FANAX, is an investigational substance similar to a prescription sedative and widely used in psychiatric care. It can cause side effects such as muscle relaxation, amnesia, hypnotic and sedative effects, and anxiety reduction. At Funcaps, it is possible to buy this research chemical for research purposes. Click here to but this product in our Dutch shop!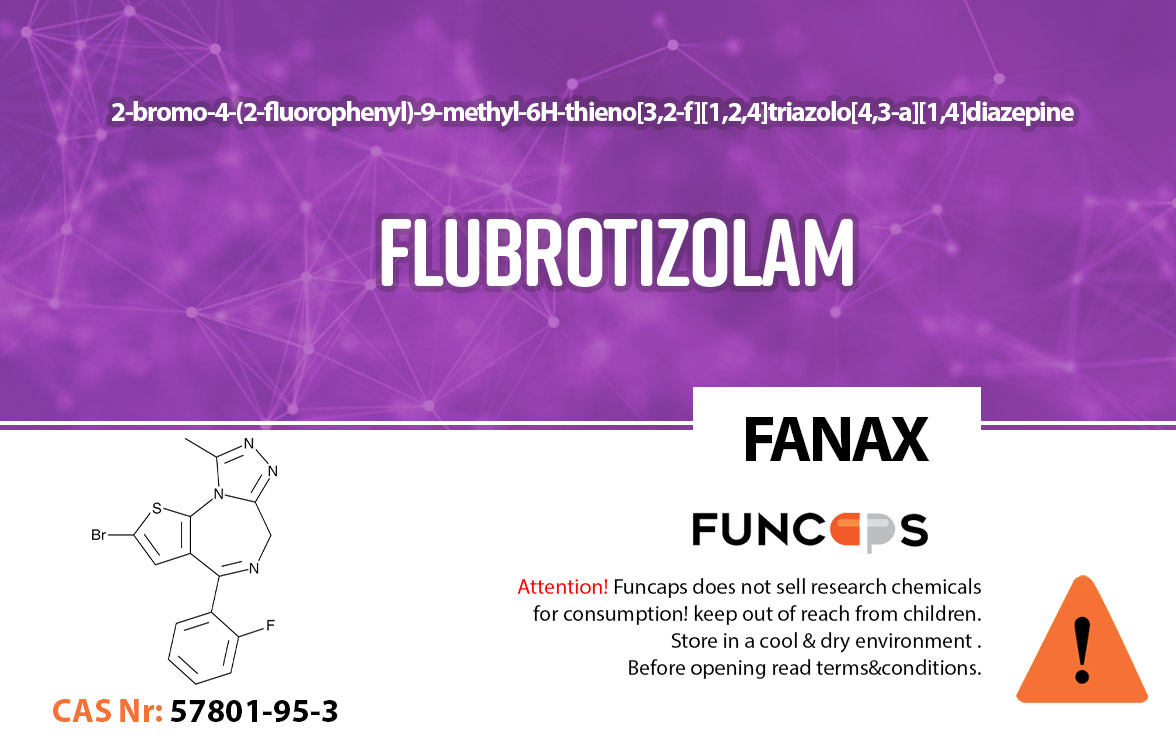 Flubrotizolam (FANAX))
The research chemical Flubrotizolam is one of the benzodiazepine types available on the Funcaps.com website. Flubrotizolam is also known as FANAX. FANAX is mainly used in psychiatric care. This is because Flubrotizolam has an effect on psychiatric-related complaints, such as anxiety, tension or panic attacks. The drug has been on the market since 2016. Because so little research has been done, little is known about the effects and risks of this drug. The information so far known about the metabolism, pharmacological properties and toxicity of Flubrotizolam in humans is scarce. NEVER combine this drug with other soft or hard drugs.
Therefore, all information about and buying research chemicals is for research purposes only. Funcaps does NOT sell research chemicals for consumption.
The effects of Flubrotizolam
As mentioned earlier, Flubrotizolam is mainly used for suppressing anxiety, controlling panic attacks and reducing restlessness. In addition, this research chemical is also used for suppressing memory. The result of using this drug is that short- and long-term memory is partially suppressed. Despite the fact that not much is yet known about the risks of this product due to minimal research, some things are known about the effects of this drug. For instance, Flubrotizolam causes muscles to slacken. It is therefore said that this drug makes it seem as if the stiffness of the muscles disappears, allowing a relaxed feeling to prevail.
The risks of Flubrotizolam
Flubrotizolam is not for consumption, this research chemical is used only for research purposes. The long-term use of this drug may therefore pose dangers. Examples of dangers include memory and concentration problems, feeling powerless and insomnia. It is important to avoid combination with other soft and/or hard drugs to avoid serious consequences. Do you have any questions or would you like more information about Flubrotizolam or any of the other research chemicals? Then please contact us via the website or via other way. This can be done via WhatsApp (+31 6 10 84 83 86) and the e-mail address [email protected].
Flubrotizolam at Funcaps.com
At Funcaps.com, we have a wide range of different research chemicals, including Flubrotizolam. All our research chemicals guarantee quality. Besides the fact that when you order them before 16:30, they are shipped the same day, they are always packaged discreetly.
From liquid RC to Benzofuran and cannabinoids, at Funcaps we have it all! Our research chemicals can only be ordered for research purposes, so they should not be used for consumption. Want to see more of our product range or order something directly? Take a look at our research chemicals shop!