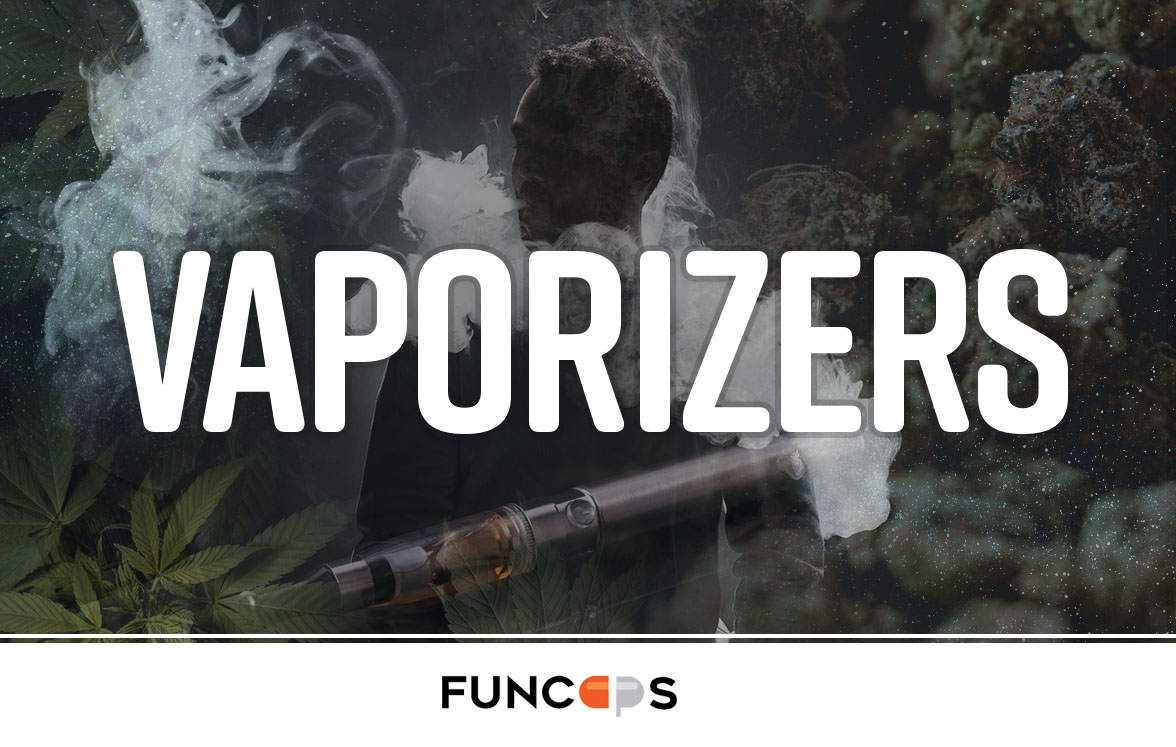 Vaporizers
Are you looking for a safer way to smoke? Then a vaporizer is everything you need. This device is perfect for vaporizing dry herbs to create smoke. The same effect as regular smoking, but much healthier. Funcaps has several vaporizers in stock for you and these are made of high quality materials. Just like our other products!
What is a vaporizer?
A vaporizer is a device used to vaporize various herbs or oils. By vaporizing the herbs or oils instead of burning them, fewer harmful substances will be released. This makes a vaporizer a
healthier alternative to traditional smoking
. You can use a vaporizer for various herbs, including
kanna extracts
and weed. You can also use the device for different types of oils.
How does a vaporizer pen work?
With a traditional cigarette or joint , you literally burn the herbs or tobacco. A vaporizer does not do this and instead uses convection or conduction. This convection or conduction converts the ingredients into vapor. When you smoke the vaporizer, this vapor is released. A vaporizer works like a mini oven. In which the plant material is heated (so not burned) to a temperature of between 157ºC and 226ºC. As a result, no active combustion takes place, but the active substances evaporate (in the case of cannabis, including THC).
How to use the vaporizer?
First, fill the herb or oil compartment with the desired herbs or oils. Next, turn on the vaporizer and wait until the desired temperature is reached. Now you are ready to vape and can enjoy the effects. Afterwards, you can quickly and easily empty the compartment again and you're ready for the next session!
Which vaporizer is the best?
At Funcaps we stock several vaporizers that you can easily and conveniently use for your favorite concentrates! We have vaporizers suitable for both novice and experienced vapers. For the novice vaporizer, we highly recommend the
Tsunami Surge Vapor Kit
. This vaporizer contains everything you need for small short vape sessions. Are you looking for longer vape sessions? Then the
Flowermate V5mini pro
is a good choice!
What is the best vaporizer pen for weed?
Any vaporizer that features an herb compartment can be considered a weed vaporizer. You place the weed in the herb compartment, then set the temperature and wait for it to reach the desired temperature. We recommend a temperature between 157 and 226 degrees Celsius. This is because within this temperature, active combustion does not take place yet, but the active substances will vaporize in your weed vaporizer.
What are the advantages of a weed vaporizer?
Buying a weed vaporizer has three advantages. First, you don't have to deal with dangerous substances released during combustion. Second, you can easily carry a weed vaporizer with you and you don't stand out as much smoking it. And finally, the third and perhaps most important advantage: You can use the vaporizer to adjust your high yourself. Because you vaporize the weed instead of burning it, you can better tune your high and adjust it as needed! Ideal for when you want to control the effects of weed!
Find your perfect vaporizer at Funcaps
Curious about the effects and benefits of a vaporizer? Then buy your vaporizer today at Funcaps! Whether you're looking for a
vaporizer that fits in your pocket
or a
larger vaporizer with more capacity
, you'll find it all in our webshop! Order your vaporizer today at Funcaps and enjoy fast and discrete delivery!
In addition to our vapes, we have an extensive shop, check out vape accessories , Vapes , Shisha and E-liquids & Pods .