If you are also tired of the noise and want to enjoy your balloon in peace without being disturbed, we have the perfect solution for you! You can easily connect our plastic muffler to your nitrous oxide bottle and minimize the sound to a noiseless position! Ideal for when you want to fill a balloon at home, at a party or outside.

Easy and fast, without the clumsy whipped cream syringe! The Vip Cracker is specially designed to effortlessly fill nitrous oxide balloons without freezing, even after many balloons in a row! Due to its compact size, user-friendly design and attractive design, our Vip Cracker fits easily in your pocket or handbag!

The XXL Party Balloons are 100% made of Latex and completely tasteless! The balloons are easy to place around the nozzle of a nitrous oxide tank, whipped cream syringe or cracker and can be easily filled with nitrous oxide! Ideal for a pleasant evening at home, at a party or outside! One bag contains 10 laughing gas balloons.

A fun party coming up soon or are friends just coming over? Complete the party with the Mosa Whipped Cream Patterns! The box contains 24 cartridges.

Did you know that counterword flavors can be added to laughing gas? By simply adding a few drops to the balloon and then filling it with nitrous oxide, you can complete your balloons! The laughing gas flavors are available in 4 flavours; Strawberry, Banana, Mango and Peach.

Would you rather have nothing to do with a deposit or don't feel like returning the empty nitrous oxide tank? Then our Disposable Nitrogen Tank 0.6KG is exactly what you're looking for! This nitrous oxide tank contains approximately 1 liter and can be thrown away immediately after use.

The great thing about the disposable nitrous oxide tank is that you have nothing to do with a deposit or deposit, you can simply throw the nitrous oxide tank away after use! However, the tank cannot be refilled with laughing gas, it is intended for single use.

The beautiful and elegant Whipped Cream Syringe is from the brand Hendi, they are known for their good quality products with a long lifespan! The Whipped Cream Syringe is smaller than most whipped cream syringes, because it has an average volume of 0.25 liters. The great thing about the Hendi Whipped Cream Syringe is that parts can be easily replaced, so it is not immediately necessary to buy a new one!

The professional aluminum laughing gas tank silencer reduces the noise by up to 90%. This way you can silently fill laughing gas balloons!

The silencer is compact in size and also functions as an extra mouthpiece to which you can attach the balloon.

Does the number of whipped cream cartridges fly through quickly? With the Kayser Whipped Cream Patterns you worry less about whether it is enough! The box contains 50 whipped cream cartridges.

Each whipped cream cartridge contains 10 cm3 - 8 grams (N 2 O) (E942) gross

Are you deficient in vitamin B12? Try the vegan vitamin B12 tablets and get rid of nerve problems and anemia!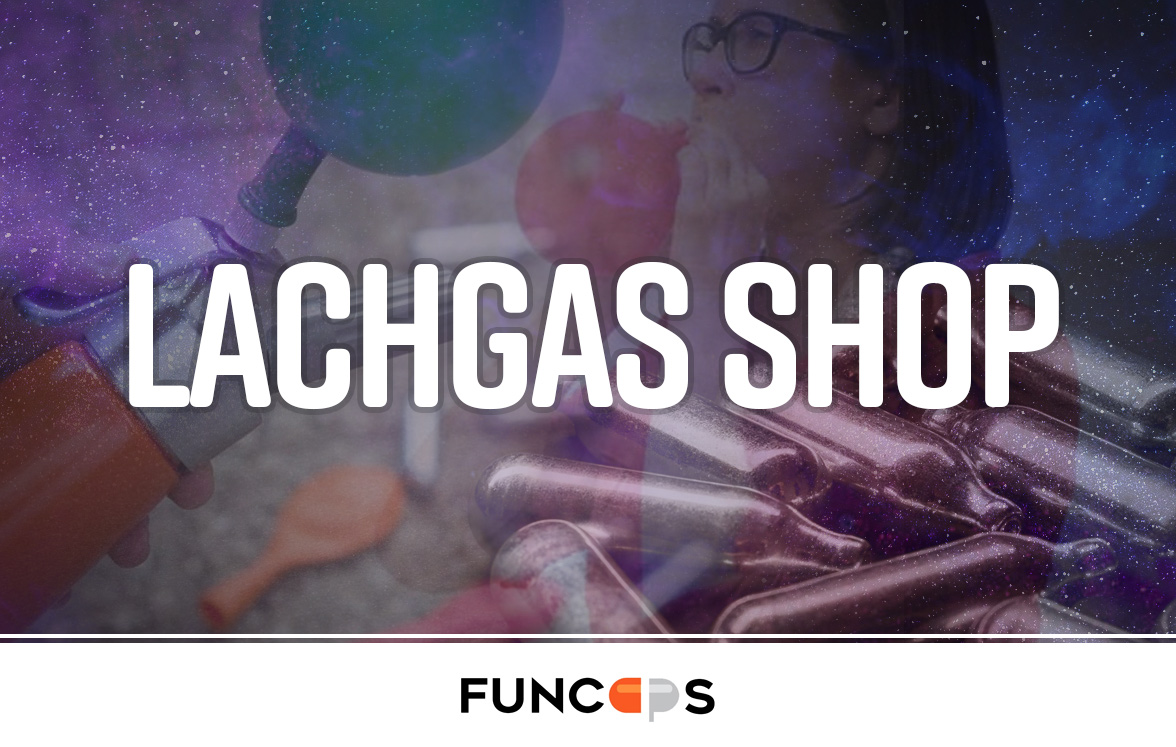 In our Laughing Gas Shop you will find all kinds of handy products that you can need to make the party even more fun! For example, we have different number of pieces per box of whipped cream cartridges, whipped cream syringes in which you can place your whipped cream cartridge and balloons with which you can catch the laughing gas! If you are not at a party, but you want to be able to enjoy a nitrous oxide balloon silently, we also offer various mufflers!
For those who want to do a balloon with laughing gas at any time of the day, we also have handy pocket size crackers! It fits in your pocket or purse, so you can easily take it with you wherever you go!